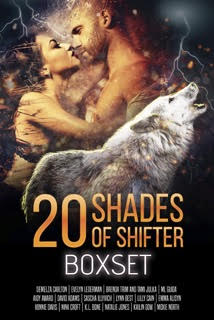 20 Shades of Shifter is a limited edition collection of new and exclusive paranormal romance novels guaranteed to suck you in from page one.
Buy Here at Amazon
A shape-shifting dragon must win over his reluctant mate and stop Jack the Ripper. A Fae trucker becomes allies with an MC member when trying to deliver magical motorcycles to the Fae Queen. A wolf shifter is held captive in a human research lab where he is tortured until he meets one sexy scientist. An angel risked it all to steal the elixir of life and save his mortal love's life and over two millennia later must get her to remember she once loved an angel. These stories and many more are included in this steamy, hot collection.
Don't wait to read this set. It is only out for a short time before it will be gone forever!
Discover stories by:
Demelza Carlton
Evelyn Lederman
ML Guida
Aidy Award
David Adams & Alica Knight
Sascha Illyvich
Lynn Best
Lilly Cain
Vonnie Davis
Brenda Trim and Tami Julka
Nina Croft
K.L. Bone
N.D. Jones
Kailin Gow
Moxie North
---
My story is titled 'A Cougar's Longing' about a 42-year-old cougar shifter who mistakenly sleeps with her best friend's wolf shifter son. You can imagine the complications that will follow!
Here are the first several paragraphs to hopefully wet your appetite:
Samantha Harper threw her playing cards on the table in frustration. Her bridge hand was crap, just like her non-existent love life. She only had one face card, a queen of hearts. How ironic! Her reaction was born out of the fact that at forty-two, she was still alone.
Her eyes explored Elle Thomas's living room. She had been there hundreds of times and always considered how she'd redecorate it, if given the chance. The room contained a mismatch of furniture purchased over the years, no piece seeming to go with the other.
"Pass," her hostess said. "The Franklins are divorcing. She told me yesterday when we ran into each other at the grocery store. I thought wolves mated for life."
Shocked by the news, Samantha hesitated in retrieving her cards. Beverly Franklin was a substitute bridge player and she considered her a friend. She was closer to her bridge friends than the extended family she had in the area.
"They do," Nancy Simpson replied. A tinge of frustration was evident in her voice. "We should never have opened our town to outsiders. One club."
Eclipse, California, had been settled by a pride of cougar shifters in the late nineteenth century. Samantha was a descendent of one of the original settlers. The remote community had given the cats the ability to run free in their animal forms without fear of being shot by an unsuspecting human.
In the early twentieth century, a wolf pack settled in the area. Rather than running off the dogs, the town embraced them. The pride leader believed their strength would help safeguard the community in a quickly changing world. No one saw the invention of motorized vehicles and the intrusion of roads, even into mountain communities.
"Gerald Franklin was having an affair with his secretary," Elle Thomas informed the group. "I know it's so cliché. Beverly didn't have a clue."
Samantha sighed, yet again, disgusted by her pitiful hand and the disturbing news. "Pass. Isn't his secretary a bear shifter?"
Although a variety of shifters called Eclipse home, the multiple species didn't interbreed. Each shifter community throughout the United States and Canada coordinated events to bring together young adults in order to expedite the joining of mating couples and prevent isolated communities from interbreeding. Samantha had attended numerous events, but never found a boy she was interested in. She had never been willing to settle to pacify her parents or the pride.
In college, she lived in a house populated by cat shifters. She became good friends with a number of the boys, but there was never a connection between anyone in particular. When she experimented with sex, it was with human boys. A shifter would have read too much into the act at that age. They were under as much pressure to mate as the girls.
Nancy's face reddened. "Are we going to play cards or talk?"
Buy Here at Amazon