Happy Holidays to all my readers. I hope you all have wonderful memories of 2016 to look back on and you are excited about 2017.
2016 allowed me to meet a number of readers who have enjoyed my books since the first one, 'The Chameleon Soul Mate', was published in August 2014. I used to go to conventions to meet my favorite authors and now being on the other side is AMAZING!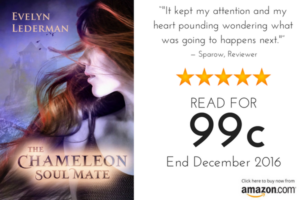 The Chameleon Soul Mate will be .99 cents through the end of the year so if you haven't read it yet, don't delay in snapping up  this great opportunity to treat yourself.
I'd love to meet each and every one of you and renew friendships in 2017. Happy New Year!