When I worked for Farmers Insurance, I put together corporate Year 2000 business continuity plans, as well as strategies to deal with a world-wide pandemic when Bird Flu was in the news.
Never in a million years did I think the corporation I retired from after 33 years of service would have to enact the plan. As news trickled out of China about a new corona virus, it became clear we didn't only have a world economy, but exposure to a virus that could become a pandemic. Throughout history, such pandemics occurred and ended. We will get through this one, like all the others. But be smart. Please follow the guidelines provided by the CDC related to social distancing, washing your hands regularly, etc.
Because of the COVID-19 Virus, The Weekend with the Authors originally scheduled for April 16th through 19th has been cancelled. Sandy Sullivan is working on plans for a conference in 2021 in Nashville again.
Space Coast Book Lovers scheduled for June 25th through June 27th is still going through activities planning for the event. They've communicated the 2021 dates so people can reserve those dates in case we are still under social distancing protocols. Again, we hope the world is back to normal by the end of June. Space Coast Book Lovers 2021 will be June 24th through 27th, 2021.
As with Space Coast Book Lovers, plans continue to be developed for Literary Love, Savannah: Thursday July 30th through Sunday August 2nd. This year will be my last appearance at that particular conference since I'm cutting down conference attendance in 2021.
COASTAL MAGIC 2020
I attended Coastal Magic 2020 because two of my favorite authors were featured: Shannon K. Butcher and Jeaniene Frost.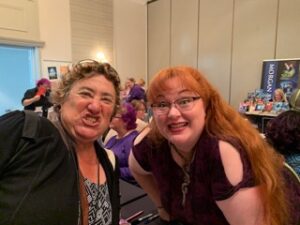 Here I am messing around with Shannon Butcher. I met Shannon at my first romance novel convention, Romcon2010. When I won a door prize, I chose the prize with the first book in her Sentinel War series 'Burning Alive'. I've been a MEGA FAN ever since. Shannon is now writing under the name Anna Argent. If you love Paranormal Romance, you have to check out the Sentinel War series under the name Shannon Butcher and The Lost Shards series under the name Anna Argent. Yes, it's a terrible picture of me, but the other photos were terrible where Shannon was concerned.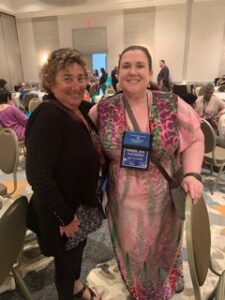 At Romcon2010, I also met Maggie Mae Gallagher. I signed up to have lunch at her table and it felt great catching up with each other. The last time I saw Maggie Mae was at the Barbara Vey event in April of last year.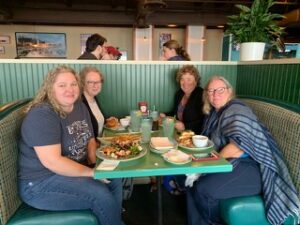 Last, but not least, I was able to catch up with my good friend S.E. Smith who also attended the conference. We were able to catch lunch together with 2 other authors. Susan is sitting beside me. If all goes well, we'll be hanging out at this year's Space Coast Book Lover's Convention.