Although the stay at home order was lifted on May 1st, my routine hasn't changed that much with the exception of playing tennis 6-days a week. I play with the same group of ladies and when the club's restaurant reopened on May 5th, we enjoy lunches twice a week. We try to keep six feet apart on the tennis court, but can sit at a table for 4 (and now 6). Since we don't leave the community, we feel very safe lunching together. This picture was taken at one of our friend's 78th birthday celebration. She may be 78, but she moves like a teenager on the tennis court. Yes, I'm off to the side… The birthday girl is the 2nd from the left.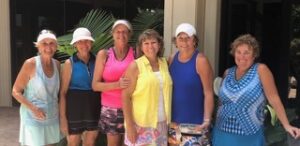 Fortunately, my community has only had 2 cases of the CoronaVirus since testing began. There has been a lot of news about Florida in the news recently, but we are doing well in Bonita Springs. We haven't been hitting the bars being careless or not social distancing at the beaches. When I do my weekly grocery shopping I wear a mask. I've collected a whole assortment of masks by now…many having been given to me as gifts.
Since I'm playing tennis, I'm not taking the afternoon walks that became part of my routine. Most people took their walks in the morning, but I waited for the paths to thin out. I'd taken walks in the community before, but never had noticed all the beautiful orchids that people placed in boxes or hung on trees. I thought I'd share them one more time since they are so beautiful. I have a black thumb, but I do appreciate the results of people who possess green thumbs.