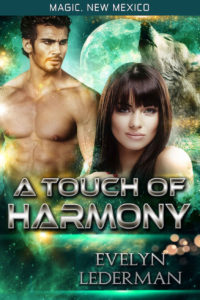 A Touch of Harmony
Magic's Destiny: Book 3
Release Date: July 24, 2018
Blurb:
All they need is a touch of harmony…
Harmony Neutron's new assignment brings her to Magic, New Mexico, where a devastating threat looms over the town. Her mission goes from bad to worse when she is forced to confront her greatest fear – of animals! She is sure that some cosmic force is laughing at her when she discovers that her Chosen One is none other than Chase Bishop – a werewolf.
Chase has been the unfortunate subject of his two best friends' unsuccessful attempts at matchmaking. Determined to stop their meddling in his life, he is shocked when a woman from the stars appears – and changes everything. Unfortunately, recognizing the woman is his mate does nothing to calm her fears of his werewolf.
Frustrated and helpless, Chase does the unthinkable and asks for assistance from a powerful witch to help ease Harmony's fear of his animal side. He doesn't have much time to convince her they belong together. A rogue governmental agency is after Harmony and determined to catch her at any cost. Will the spell give Harmony the time she needs to accept that their love is real, she can trust him, and he would never hurt her – before it is too late?
Download here:
Amazon | Amazon Paperback | Apple Books
B&N | Kobo