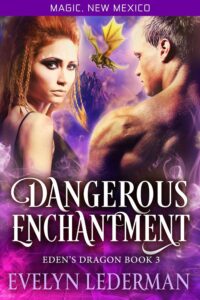 Dangerous Enchantment
Eden's Dragon, Book 3
The Worlds of Magic, New Mexico
Release Date: June 8, 2021
Blurb:
It's kill or be killed.
Fatima, a victim of an enchantment, takes her human form only a single day each year. A born warrior, she goes after the member of the Brethren who has sworn to kill the enchanted female descendants of Eden's Dragon. Everything changes when a witch tells her to come to Magic, New Mexico to reunite with two of her sisters.
Brett Dixon has stalled his dad's plans to reunite with his runaway brother. Together, the twins have the ability to conjure a jinn to grant all their immoral father's wishes. When a naked woman appears before him and then later changes into a dragon, he knows he must find her.
Forces converge in Magic, New Mexico, where anything is possible.
Download here: