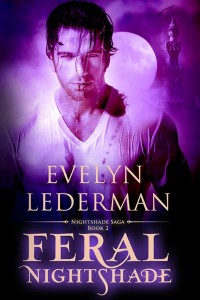 Feral Nightshade
Nightshade Saga: Book 2
Release Date:  February 23, 2016
Blurb:
Devastated by her mother's death, Emma Thorton inked her body with protection and eternity tattoos. Years later after being pulled through a portal into the Nightshade universe, these markings brought her to the attention of a powerful and deadly vampire. Her only hope is to turn to another vampire who she is unexplainably drawn to.
Frazour lived by the sword when he was mortal and it was the reason he was converted to a vampire. He lived to kill his adversary and shied away from vampires and humans alike. Frazour is finally about to meet the enemy for a final battle when his focus is distracted by a woman he senses is his mate.
Although Emma was claimed by another vampire, Frazour will sacrifice his life to be with her. Their only hope is that they are true soul mates and will gain the powers to overcome the dangers inherent in the Nightshade universe.
Download here:
Amazon | Amazon UK | Amazon CA | Amazon AU
Amazon Paperback | Apple Books | B&N | B&N Paperback