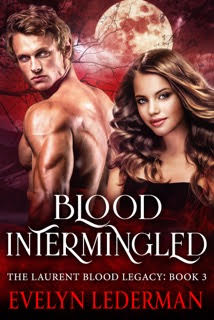 Blood Intermingled
The Laurent Blood Legacy: Book 3
Release Date: February 25th, 2020
Blurb:
Should he offer immortality to a suicidal woman?
After a vicious attack, Elizabeth Stevenson attempted to take her life twice. Every time she closes her eyes, her nightmare returns. While visiting her grandmother, she encounters a man who wants to bring light into both of their lives. Can she leave her trauma behind and begin a new life?
Darrason Rainfros has been a vampire since Vikings raided the English and French coasts. The Laurent blood legacy would allow him to once again walk in the sun. When he meets the soul mate required to activate the spell, things become complicated as she struggles with the decision to end her life or become an immortal.
Will their love be substantial enough to activate the blood legacy?
Download here:
Amazon 
Other Stores