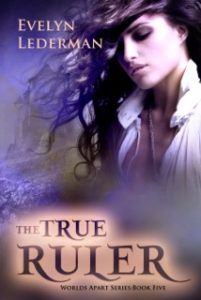 The True Ruler
Worlds Apart: Book 5
Release Date:  December 20th, 2016
Blurb:
Cassie Jarlyn is a master at keeping secrets. One impulsive act threatens to expose what she had kept hidden for years. She must finally face what destiny has in store for her when she finds herself in the Troyk universe.
Darden Lours fears what will happen to Cassie in his world. He knows he is fighting a losing battle to prevent the growth of her telepathic powers. His desire to build his relationship with her is only tempered by his need to shelter her.
Will submitting to his desire for Cassie destroy everything Darden has fought to protect? Does Cassie have the will power to resist the power of her telepathic gifts?
Get absorbed in the final battle for the Troyk universe and its True Ruler.
Download here: