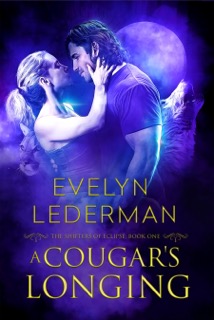 A Cougar's Longing
Shifters of Eclipse: Book 1
Release Date: January 21st, 2019
Blurb
Samantha Harper, a cougar shifter, has been playing in the same bridge group for over a decade. When she meets a sexy, good looking younger man in a bar, the shifter truly becomes a modern day cougar. Things become complicated when she discovers he is the son of one of her bridge partners. She is torn between the sensual feelings she has never experienced and a friendship she has valued for years.
Barry Simpson has been in love with Samantha for as long as he can remember. When he spots her in a bar, Samantha doesn't recognize him and appears interested. Instead of identifying himself as a wolf shifter, Barry dives into an affair that could jeopardize his place in the pack.
The two lovers are caught between the rules of each of their clans, the inappropriateness of their relationship, and the friendships that are in jeopardy.
Download here:
Amazon
NOTE:
If you purchased the '50 Shades of Shifters' anthology (available 2/14/2018 thru 5/14/2018) you have 'A Cougar's Longing'. I waited to republish the book as a standalone novel until the second book was ready to go. In the meantime, I offered the paperbacks exclusively at the conventions I attended. The second installment in the Shifters of Eclipse series will be available in June.