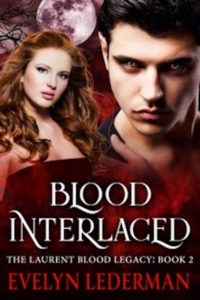 Blood Interlaced
The Laurent Blood Legacy: Book 2
Release Date: May 21, 2019
Blurb
The vampire in her romance novels turns out to be more than a figment of her imagination…
Laura Simon turned her nightly visions of a vampire into a lucrative romance series. When she's rescued by a man who bears a striking resemblance to the vampire in her head, Laura's world is turned upside down.
Jack Monroe feels an immediate attraction to the woman who invades his solitude. When he reads one of her novels and discovers he's the protagonist, his interest in the woman becomes something more. He reluctantly lets her go, only to chase after her when he's told about the blood legacy.
Will he condemn her to an eternity in darkness for a chance to walk again in the light?
Can a centuries old spell save them both?
The blood legacy continues…
Excerpt
Her eyes fluttered and opened. "Jacques," she whispered.
He froze. Her eyes widened in response to his reaction. For the second time, he saw fear reflected in her eyes.
"What do you know of Jacques Monreau?" His French accent reemerged.
Laura struggled underneath him. "Nothing. He's a character in my vampire series, nothing more."
He wasn't buying it. "Your books are very specific about events and women in his life. Explain that."
She pushed against his shoulder and he withdrew from her. In a fit of anger, she rolled out of bed, taking the flat sheet with her. "He's a figment of my imagination."
"I'm Jacques Monreau and I just read about my life in your books," Jack struggled to control his anger. He didn't like being lied to.
"Don't be ridiculous. Jacques is a vampire who would be over six hundred years old if he existed." She ran a hand through her tangled hair. "If vampires existed. God, I can't believe I'm having this discussion."
The conversation went nowhere. He'd get the answers he needed. Jack rose from the bed and opened his mouth, allowing his fangs to extend.
Laura backed into the wall, her chin and lips trembling. Her hands negligently released the linen she'd wrapped herself in.
Naked, she crumbled to the floor.
The blood legacy continues…
Download here:
Kindle
Other platforms