As usual, Literary Love-Savannah was a blast and the city enchanting.
I always get a kick out of meeting an author who has a shade of purple in her name. Here I am with Kelly Violet. Kelly writes Contemporary New Adult Romance. How do you like my lunch table decorations?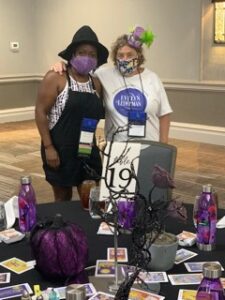 At Literary Love, authors share tables at the signings. It's always a crapshoot regarding who you'll be placed next to.
Last year, I was next to fellow Florida Young Adult author Breezy Jones. This year, I was paired with an author I met for the first time, Ellie Raine. As we chatted, we discovered Fiona Jayde did our covers. Fiona has been with me from the beginning, doing all my cover work except for the Magic, New Mexico novellas. I took this photo and sent it to Fiona.
Her reply: "No way, OMG!!!!!! This totally made my day! And the matching PURPLE!!!! I can't stop grinning!!"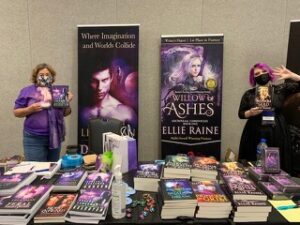 One thing I love about attending conferences are all the friendships I've made over the years. Here I'm with Stephanie. I met her originally in Kansas City, we had dinner at the Pirate House last year in Savannah, and this year we posed for this photo. Stephanie is a pediatric nurse. As with all health care professionals, we owe them all a special thanks for everything they've done over the last two years for our communities.