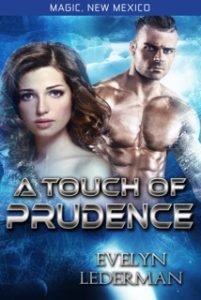 A Touch of Prudence
Magic's Destiny: Book 1
Release Date: July 24, 2018
Blurb:
Prudence 'Prue' Hardt never knew who her father was, only that he was from Magic, New Mexico, a town she hasn't seen in twenty years. Fearful of the power that she might have inherited from any number of mystical beings that live there, Prue knows she has no choice but to track down her paternal DNA before it is too late. What she doesn't expect when she returns home is to be drawn to a mysterious man, or to discover that her life is in danger.
Star Ranger Dreyden has been on one too many missions when he is ordered to a primitive planet to spy on a small town with unusual residents. His attitude toward his unwanted assignment changes when he spots a beautiful woman – and sees the patterns on her skin. Patterns that can only mean one thing – she is his chosen one. Resentment turns to cold determination when she is threatened, no easy task when she isn't exactly appreciative of his efforts.
Prue and Dreyden must work together as Prue searches for her father and struggles with her new powers. Dreyden knows that it will take a touch of prudence to convince Prue to trust him. Will he be able to protect her from the dangers that threaten their future while she learns to control the power she wields?
Find out in A Touch of Prudence.
Download here:
Amazon | Amazon Paperback | Apple Books
B&N | Kobo