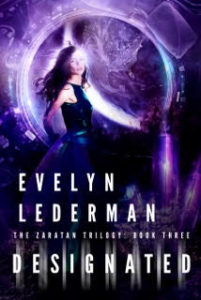 Designated
The Zaratan Trilogy: Book 3
Release Date:  May 11th, 2018
Blurb:
A journey home…
New challenges to face…
An ultimate decision to be made…
Kara Howard faces her greatest fear when she returns to Earth. She is now the purple faced alien who is designated to represent her new world. All her work to reunite families will soon meet its final test.
No longer able to breathe her home planet's air, her future must be made galaxies away. Her life is further complicated when the mission is jeopardized by betrayal. Once again, Kara must choose sides in the ambiguous allegiances between families.
She walks a tightrope of her own making between the two men in her life. But her ability to make a final decision is compromised by new challenges aboard the ship. The girl who liked to disappear into the shadows continues to standout, making her a target.
Download here: