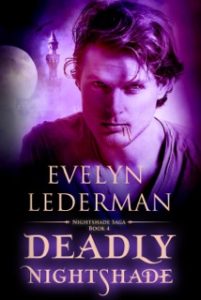 Deadly Nightshade
Nightshade Saga: Book 4
Release Date: August 5, 2017
Blurb:
Shifter Portia Zabare's greatest secret is catching up with her. The reason she refused to return to her own dimension has now entered the dangerous Nightshade universe. In addition, she must ultimately face her soul mate in her human form and make the most difficult decision of her life.
Jace was the only one among his blood brothers who did not willingly become a vampire. Now, he stands beside his brothers and their mates in an attempt to find peace in a dimension in turmoil. When Jace realizes who Portia truly is, nothing will stop him from possessing her.
Will Portia be able to face her soul mate and give up her greatest gift? Can Jace accept his new role in the changing Nightshade realm and ultimately what destiny has in store for him and Portia?