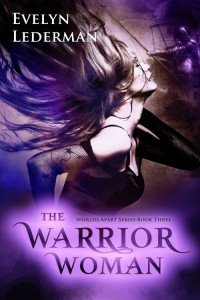 The Warrior Woman
Worlds Apart: Book 3
Release Date: 29 April 2015
Blurb:
Candy Phillips vowed at an early age to control her own destiny. Her carefully ordered life is thrown into turmoil when she follows her friends into a parallel universe. Thrust into a hazardous position she did not want, Candy finds herself on a routine mission where things suddenly go terribly wrong.
Recognizing immediately Candy is his soul mate, Tolfer Childers decides to hide the true nature of their relationship. He restrains his emotions so her feelings can grow naturally even though he wants to love and nurture her. In a split second decision, Tolfer sacrifices everything to follow his soul mate to another dimension.
Once they exit the portal, Candy and Tolfer must come together as true soul mates to face the obstacles in this new world. Is Candy the Warrior Woman of legend? Will she and Tolfer survive in a place no one escapes from? Ultimately, it will take more than Candy and Tolfer's bond if they are to live.
Download here:
Amazon | Amazon UK | Amazon Canada
Amazon Australia | Amazon Paperback | B&N Paperback