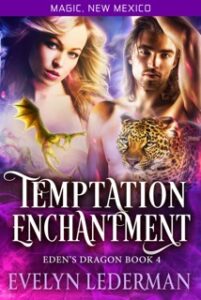 Temptation Enchantment
Eden's Dragon, Book 4

The Worlds of Magic, New Mexico
Release Date: August 17, 2021
Blurb:
She can tempt any man, except for him.
Men have died to possess Nour, even those who came to kill her. For centuries, dragon shifter Nour has used the gift she inherited from Eden's Dragon. Everything changes when she materializes in Magic, New Mexico. Will her enchantment finally end?
Jaguar shifter Elon possesses psychic powers he refused to use. Against his better judgement, he aids his cousin and enters a parallel dimension. Sometimes there are no choices when it comes to protecting his newly discovered mate.
Download here: