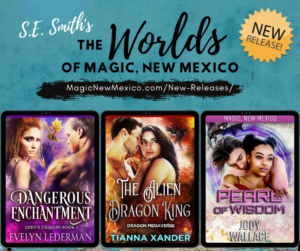 Brand new Magic, New Mexico stories for you to curl up with!!
* Dangerous Enchantment by Evelyn Lederman. With the Brethren after her, it's killed or be killed for Fatima. But when magic is at play, the possibilities are endless.
* Pearl of Wisdom by Jody Wallace. The truth will set her free, but it may destroy him.
* The Alien Dragon King by Tianna Xander. One woman. Two royal dragons. A battle that could destroy their world.
Download here: https://magicnewmexico.com/new-releases/