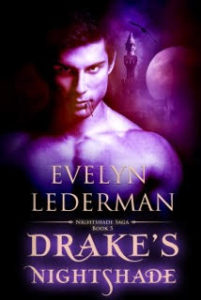 Drake's Nightshade
Nightshade Saga: Book 5
Release Date: July 24, 2018
Blurb:
Dare to enter the Nightshade universe…
Drake is the last of his blood brothers still a vampire. Pure joy consumes him each time his unborn soul mate reaches out to him telepathically. But everything changes when an unconscious woman is brought to him to be saved.
Starla Childers wakes in the Nightshade universe, a dimension that is forbidden to enter. She learns she cannot leave the dangerous realm because of a blood exchange between her and a vampire. Torn between fear and an unexplainable attraction, she must stay in the realm with a man who captivates her body and soul.
Download here:
Amazon | Amazon UK | Amazon CA | Amazon AU |
Amazon Paperback | Apple Books | B&N | B&N Paperback