Pre-Order your copy of 'Blood Interwoven' through Amazon now. Other formats will be available by the July 28th release date.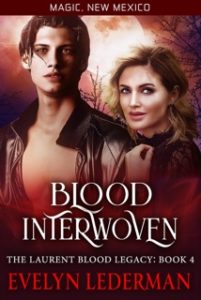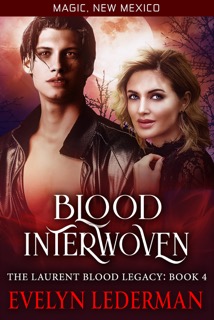 FROM THE JOURNAL OF TOPPER'S ANCESTOR WHO CAST THE SPELL THAT CREATE THE LAURENT BLOOD LEGACY:
No matter what I do, I cannot bring down Camille's fever. She drank the bone broth soup I prepared, but there has been no change. I will go into town tomorrow to buy more turmeric.
Camille continues to cry out for the boy vampire. I can no longer dismiss the fantasy she has created in her mind. Her obsession with him seems to be the only thing keeping her alive. Each evening I search for the pale boy Camille described. Every time I leave the house, I fear upon my return, Camille passed in my absence. But I must find the boy.
My child wears the pallor of death. Her breathing shallow, not providing life affirming air. The doctor has bled her for the last time.
Camille cried out for a withered yellow rose. When I handed her the dead flower, I noted dried blood on a thorn. She told me it was his blood. Camille purposely punctured her skin to allow her blood to be interwoven with his. For the first time she muttered his name. They were her last words. Francois Laurent.
I buried my daughter this morning. It seemed fitting the rose be buried with her. I kept the thorn that contained both their bloods. If they could not be together in this life, I'll find a way to bring them together in a future one.
Pre-order your Kindle copy today! https://www.amazon.com/dp/B0895JK7KH