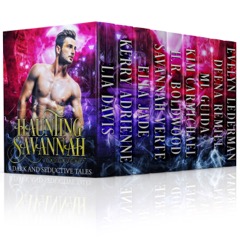 'The Ultimate Act of Love'
The last thing Kori Daniels expected to see on a ghost tour is an actual apparition. Although she can feel earth-bound spirits, she has never seen one.
Already impacted by nightly amorous dreams since arriving in Savannah, her dream lover now has a face.
Jeb Crawford was trapped between life and death. He waits nightly for the arrival of a soul mate who could end the enchantment.
Once he finds her, he is unsure of what is required to reclaim his body from stasis.
Will Jeb and Kori's coming together end the spell he is under? What could be the ultimate act of love that will bring him back to life?
Buy Here!