August 5, 2020 will mark the 6th anniversary of 'The Chameleon Soul Mate's' publication.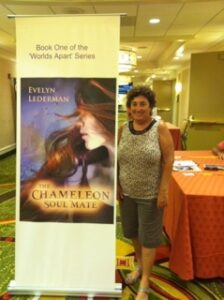 Two dates stick in my head: the day the voices began (February 23, 2014) and the publication of my first novel. The photo was taken on August 14 at my first conference as a writer. I quickly got a banner made and paperback copies were shipped to the hotel with only a day to spare. People come up to me today and say they remember when I only had 1 book.
To celebrate the anniversary, I decided to take the Worlds Apart series and create a box set. It will be exclusive to Amazon and KindleUnlimited. The boxset will not only include the original 5 books, but the prequel novella AND comments from me about each of the books. it's a great opportunity for KU readers to check out the books again. If you already own the series, I'll have the author notes placed on my website. The Worlds Apart series is still near and dear to my heart. Alex, Shirl, Candy, JoJo, and Cassie are the closest characters I have to daughters.
The Amazon link will be in my next newsletter.