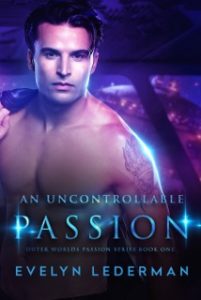 An Uncontrollable Passion
Outer Worlds Passion: Book 1
Release Date: October 16, 2018
Blurb:
He looked past his genetically engineered bride and became obsessed with her battle-scarred bodyguard.
Militia cadet Sydney Aubrey's life is turned upside down when she receives new orders. An attraction to a man after a chance encounter threatens her new assignment. Haunted by her past, Sydney fights not to have history repeat itself.
Clay Wilson worked hard to build his outer world operation and travels to Earth to collect his contracted bride. He questions his decision to marry to enhance his status when a totally unacceptable woman invades his life and stirs his body.
Travel to the 31th Century in this sexy, gritty science fiction romance.
When Earth runs out of natural resources, mankind heads to the stars. In the outer worlds and Frontier, there are no laws and women are a commodity.
Download here:
Books2Read | Amazon | Amazon UK
Amazon Canada | Amazon Australia