2020 impacted everyone around the world. It caused many of us to reflect on our lives and think about what was important. I loved living in Florida and met many wonderful people, but my heart was in Austin, Texas. Two of my four best friends live in Austin, I was membership chairman of the Sierra Club when I lived there, and I started my 33-year career with Farmers Insurance there. I made the decision in the 4th quarter of last year to move to Austin in the April-June 2021 timeframe.
My life has been crazy starting in February as I prepared to sell the house through April when I moved to Austin. It took a lot of work to stage the condo to place it on the market. All the work was worth it since the condo sold over a single weekend. Then preparing to pack everything I owned and throw out lots of materials I wasn't taking with me. I donated items to The Goodwill and St. Matthew's House, reducing what I would bring along with me. Bear Junk Haulers took the larger items that I couldn't lug to the dumpster.
My tennis friends got together to give me a proper send off at one of my friend's huge lanai. It went against CDC rules, but we all have been playing tennis together throughout the pandemic. As I said, I leave behind a wonderful group of ladies!!!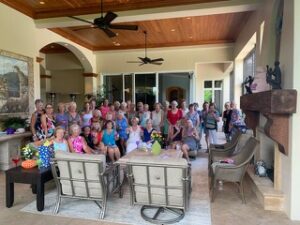 Over election week in November 2020, I drove to Austin to check out different apartment complexes. I decided to rent in the beginning since I'd be dealing with a seller's market and didn't know if I wanted to deal with homeownership again.
I found a complex with 3-bedroom standalone townhouse rentals. Perfect!!! I selected a unit with an amazing view of the Texas Hill Country. My balcony faces west and I've witnessed some amazing sunsets.
Hopefully, my writing muse has followed me to Austin.