Attending conference is always a lot of fun. It's wonderful meeting my readers and gaining new ones. At Literary Love: Savannah, Savannah Verte (in the big red hat) and I co-sponsored a lunch table. The readers were given cute fascinator hats Savannah picked up in New Orleans. Two of our readers bugged out before the photo was taken. Naturally, I wore my purple fascinator!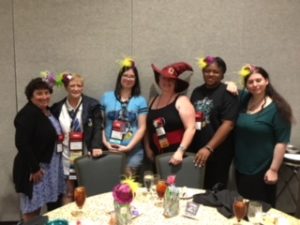 At Literary Love: Savannah, I was also on 3 panels (PNR, YA, and scifi/fantasy/UF). I enjoyed listening to panel discussions when I attended conferences as a reader and was thrilled to participate in these 3 panels. This was the PNR panel which included Laura Hawks and Milly Taiden.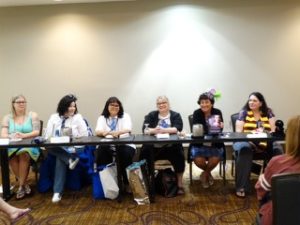 Conference are also an opportunity to network with fellow authors and do some business. An industrious reader caught me and Jennifer Wentworth having a quick meeting related to the new scifi series I will be releasing in October/November/December. I posted this picture on Facebook and someone asked if I had fallen. It was actually more comfortable talking and taking notes sitting on the floor than sitting on the chair.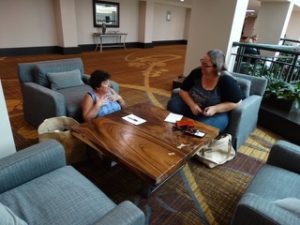 At Once Upon a Book in Frankenmuth, Michigan it was a lot of fun dressing up as a Greek Goddess. That's my roommate at the convention Laura Hawks with me. Yes, I know I'm not in purple or have my fascinator on. It felt strange!